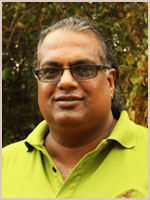 Namal
(Founder of camp/ naturalist/wildlife photographer/conservationist)
Former professional spent over 20 years in the corporate world working in the financial services sector. Decided to follow his dream of being close to nature and committed to setting up Wilpattu Safari Camp. Grew up in Kenya, where a love for wildlife and nature was instilled at an early age.  Namal is part of "zero3 Images" the team that co-author of 3 highly acclaimed books on wildlife photography in Sri Lanka. An active conservationist, having served for a number of years in the committee of the Wildlife & Nature Protection Society of Sri Lanka (www.wnpssl.org). He is also a past President of the Sri Lanka Natural History Society (established 1913). A current trustee of the Federation of Environmental Organisations (www.feosrilanka.org) and a founder of the "Wilderness and Protected Areas Foundation". He has been photographing Sri Lanka's Wildlife since 1996. You can follow his photography on Instagram by following this link https://www.instagram.com/namalkamalgoda/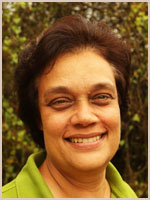 Jackie  (Namal's wife)
Namal's wife who will answer all your calls and e mails to ensure your arrival at camp is well coordinated. Namal's long standing travel partner who doubles up as a porter, camera assistant and camp operator. Jackie gives the all-important female touch to the camp.
Hemantha (Drive/guide)
Born and raised in the village adjacent to the park entrance. One of the most important people in the camp as he is our driver/guide and will be entrusted with ensuring your safari drive is comfortable and safe.  Despite his youth has a wealth of experience of being a driver/guide and has been the driver /guide of "zero 3 images "on our photography tours to the park over many years. He is a keen photographer himself and a great guide with keen eyes.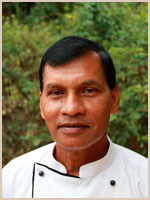 Senadheera (Camp Chef)
Our chef with over 20 years of experience will ensure that you are well fed. He takes great pride in his kitchen and will always try his best to make sure that you get to experience the local flavors. He is excellent at both Eastern and Western cuisine so you need not worry at all as you will be well fed.