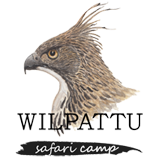 We believe that our camp will be a haven for those seeking to enjoy "A Journey through the Wild" in a quiet and unhurried way. A safari holiday designed with care, luxury comfort and intimate knowledge of the parks to allow our guests to have the best possible holiday in Wilpattu.
Wilpattu Safari Camp is owned by Ceylon Nature Trails Pvt Ltd. The company is owned by a group of wildlife enthusiasts and photographers who have been exploring and photographing the national parks and nature reserves of Sri Lanka for nearly 35 years. The experience gained and intimate knowledge of the parks enables our guests to enjoy a very authentic safari experience often away from the beaten path. The core group Namal, Gehan, Palitha and Sarinda formed as "Zero 3 Images" to publish their first book in 2003 and have together travelled and photographed wildlife in Sri Lanka for over 20 years. They published 3 more books in 2006 , 2009 and 2013 which have all received high acclaim. As wildlife photographers they have travelled with and have access to a wide network of experts and specialists in the field.
Our philosophy is based on the firm conviction that the welfare of the wildlife is at all times the priority. We believe that sustainable conservation is well served with responsible tourism that involves the communities around the parks.